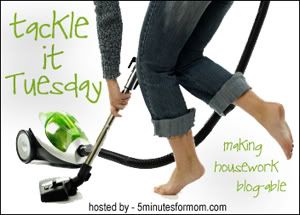 I thought I would post about a thrifted shelf I bought for $1.00.
I found a really cute retro clock and decided to put it in my bathroom.
I wanted it where I could easily see it.
I've been looking for a metal shelf and stumbled upon
this wooden shelf for $1.00! How could I pass it up?
This shelf WAS black.....my battery was dead so, didn't get a picture of it
while it was black.

I found some cute wooden embellishments at Hobby Lobby for a total of $4.00
and glued them on.......A can of almond spray paint.....
I turned it upside down because I wanted a towel holder by my sink as well....now this picture is not where I am hanging the shelf....I don't have a hanger on the back yet....maybe I'll tackle that by next Tuesday.
Total cost of thrifted shelf makeover?
$7.00!!!