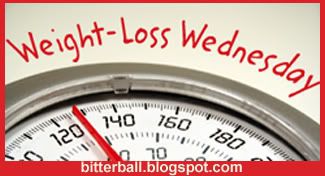 I knew this was going to happen....ugh! I gained this week....2 lbs. Sheesh, I've got to get my mind focused. I've been checking out others weightloss blogs and are finding them inspiring....
I need to stay away from holidays and family reunions...lol.
+2 lbs. = Total Loss -1 lb in 4 weeks

Don't forget to check out my SE
CRET GIVEAWAY
(<----click) post and leave a comment. I'll be giving away a special prize on my 100th post....pssst...this is my 82nd post. If you are unsure how to post a comment, scroll to the bottom of THE POST and look for comments...it should have a number in front of it....CLICK...and leave a comment.