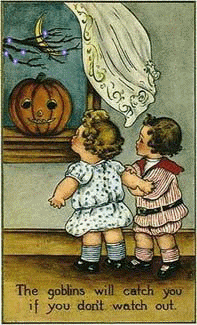 My favorite Halloween memories include when we would go camping with the entire extended family. All of the campers would decorate their campers, tents and cabins. There was a hot dog dinner, trick or treating and a haunted trail. The best decorated would win a free weekend of camping. Of course, we NEVER won that one.....but we had fun.
When my mother turned 60, we all had 60-themed costumes and she didn't get the clue until we brought out the birthday cake. While we were lined up to eat, a 60's Volkswagon bus drove into the campground......we made the mad dash across the grass and asked if we could have a picture with it......If I could get a copy of the picture, I'd post it......HEY MOM.....you got a copy?
Now it is your turn, what is your favorite Halloween memory?